Deirdre Liebman October 18th, 2023
This article originally appeared in Scholastic Kids Press.
On October 1, 1943, Jewish families in Denmark were preparing to celebrate Rosh Hashanah, the Jewish New Year. But they got chilling news. Nazi soldiers from Germany, which occupied the small Scandinavian country, were planning to arrest and deport Denmark's entire Jewish population.
The people of Denmark did everything they could to spare the lives of their Jewish friends and neighbors. They secretly arranged to have the Jews flee by boat to neighboring Sweden.
"There were people who hid the refugees, who clothed the refugees, who gave them food, who escorted them to hiding places," said Ellen Bari. "People helped in every way imaginable."
Bari is the curator of a new exhibition at the Museum of Jewish Heritage in New York City. The exhibition, "Courage to Act: Rescue in Denmark," spotlights the resilience and bravery of the Danes, including children, during World War II (1939-1945).
In the early 1940s, German Chancellor Adolf Hitler controlled much of Europe, including Denmark. In the occupied countries, Jewish people were rounded up and sent to concentration camps. At the camps, prisoners endured forced labor, starvation, torture, and death. During the Holocaust, more than six million Jews were killed by the Nazis.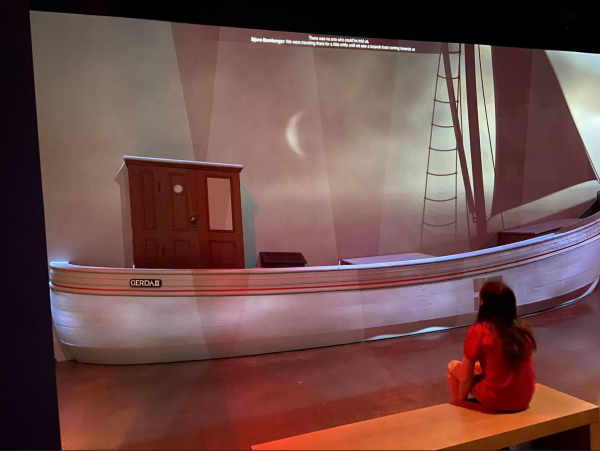 SAVING THE JEWISH PEOPLE IN DENMARK
After the Nazis issued their order, the Danes had little time to act. Yet they were able to transport 95% of Denmark's Jews to safety. Small vessels were used in the dark of night to carry Jewish passengers across the Øresund Sound to Sweden, which remained neutral during the war.
The museum's exhibition commemorates the 80th anniversary of this daring rescue. It's designed for children ages nine and above. Young actors help tell the stories of ordinary Danes involved in the effort. Photographs, maps, survivors' accounts, and a replica of Gerda III, which transported many Jews to Sweden, help bring the past alive.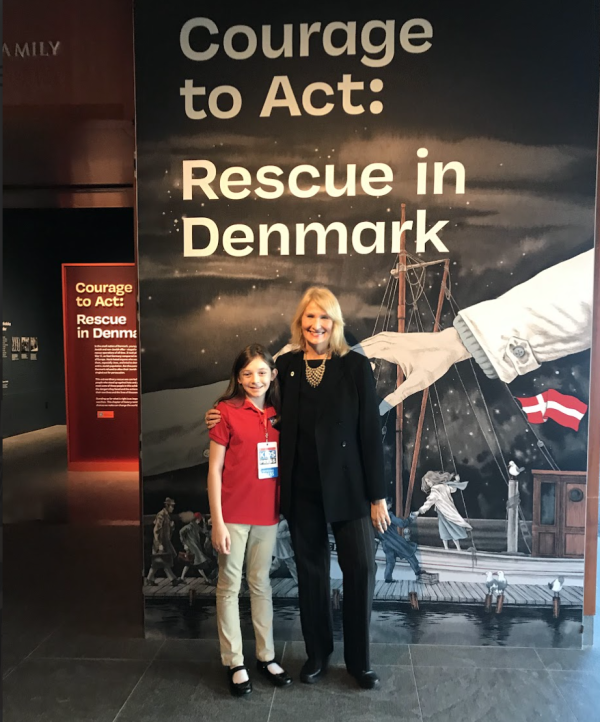 FACING ANTISEMITISM
Jews continue to face antisemism (prejudice and hatred) worldwide. I previewed the exhibition just days after Hamas, a militant Palestinian group, attacked Israel. The small Middle Eastern country is home to the largest Jewish population in the world. More than 1,400 people were killed in the attacks. About 200 others were taken hostage. It was the single deadliest day for the Jewish people since the Holocaust.
"It's important to remember the history and that, even in difficult times, there are always good people," Bari said.
Tensions between Palestinian Arabs and Israeli Jews, who share neighboring territory in the Middle East, are not new. In 1948, three years after World War II ended, the country of Israel was established. After years of turmoil, Israel was looked upon as a sanctuary for Jews. But Palestinians also have historic claims to the area. Many Palestinians have lost their land because of Jewish settlements. Now, the threat of a large-scale war looms.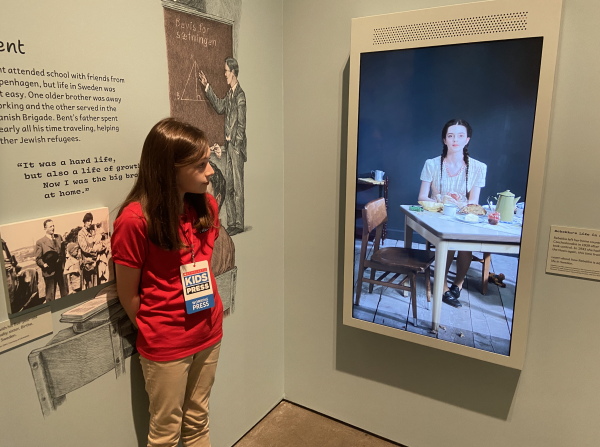 EMPOWERING YOUNG PEOPLE
In the exhibition, actress Imogen Williams, 18, plays Rebekka, a Jewish refugee whose story is based on several first-person accounts. When asked what she wanted young people to take away from the exhibition, Imogen said, "to always be there for your community and to support the minority."
Bari echoed those sentiments. "It's on all of us to look after our neighbors," she said. "I hope [kids] will be empowered to do the right thing."
Photos courtesy of Scholastic Kids Press